Zogby goes down
Katy says: Some of our loyal chavista readers are very upbeat on a recent poll by Zogby International that gave Chávez a big, big lead over Rosales. An...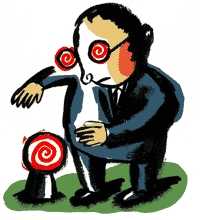 Katy says: Some of our loyal chavista readers are very upbeat on a recent poll by Zogby International that gave Chávez a big, big lead over Rosales. An anonymous reader wrote something about this, and I have offered to post it.
Our reader says: "On August 21st of this year, forty days before Brazil's Presidential elections, Zogby International gave President and candidate for reelection Lula da Silva a margin of 33 percentage points over his leading rival, social democrat Gerardo Alckim.
In essence, Zogby gave Lula 53% of the vote, and Alckim 20%. But the reality on the day of the vote was quite different: Lula got 48.6% of the vote and Alckim got 41.6%.
Was Alckim able to mount a 22 percentage-point climb in preferences in less than six weeks, or was Zogby wrong in its analysis?
This question is important for Venezuelans, because a few days ago Zogby unveiled the results of a poll done in Venezuela between Oct. 1 and Oct. 16, giving Pres. Chávez 59% of the vote, and unity candidate Manuel Rosales 24%.
It seems as though Zogby is wrong again, because the data underlying its poll puts their reliability in serious doubt.
In the Presidential election of 2000, 43.6% of voters abstained from voting. 32% of registered voters voted for Hugo Chávez, and 21.3% of them voted against him.
According to the underlying cross-tabulated data released by Zogby, of the 800 people they polled, 55.4% of them declared having voted for Chávez, 34.4% of them declare having abstained, and only 10.3% declare having voted against Chávez.
How can a poll presume to shed light on the political reality of the country, when the answers of the people polled are not representative of the Venezuelan electorate? How can Zogby release a poll without cross-checking their results with historical data?
And the worst part is…
Zogby says most Venezuelans live well!
68% of those polled say they are making enough money to ward off economic problems, while only 32% declare having at least some financial problems because of insufficient income.
This is an astonishing result given that the majority of the country is living in poverty.
We do not know who Zogby works for. We know "their" poll was subcontracted to DATA Opinión Pública y Mercados, S.C., a Mexican firm, and that this firm hired a Venezuelan firm whose name has not been revealed.
Smells fishy, no? This is not the first time Zogby has screwed up. Slate also took a shot at debunking Zogby's prestige in this terrific piece by Joshuah Micah Marshall. (Katy's note: the .gif image is from their piece)
The moral of this story is that elections are not won by polls, they are won by votes."
(PS from Katy: I apologize for not being able to link the article to the underlying Zogby data. If anyone would like a copy of Zogby's cross tabs, please email me. I'd be happy to send it to you as an attachment.)
Caracas Chronicles is 100% reader-supported.
We've been able to hang on for 21 years in one of the craziest media landscapes in the world. We've seen different media outlets in Venezuela (and abroad) closing shop, something we're looking to avoid at all costs. Your collaboration goes a long way in helping us weather the storm.
Donate