Juan Requesens: "Politicians must assume risks others won't take"
We interviewed Juan Requesens a few days before he was snatched from home by the government's intelligence police. There's still no information of the young legislator's whereabouts.
Photo: Daniel Lara
On Monday, Juan Requesens gave a fiery speech at the Venezuelan parliament: "Is Nicolás Maduro going to come and tell me, that I cannot speak up? That I cannot protest? That I cannot talk straight? That I cannot blame him? That I cannot say that they are a bunch of corrupt murderers linked to the worse crimes that this Republic has seen? Of course I'm going to keep saying it! And I will say it every time I can! And I will point at you! Because the only weapon us politicians have is words, it's strength, it's our voices and our will to change things."
Requesens was scolding the government after his colleague, José Manuel Olivares —who also holds a seat in the Venezuelan parliament, was driven to exile when he got news that an order apprehension for his wife had been issued.
The only weapon us politicians have is words, it's strength, it's our voices and our will to change things.
The day after his speech at the National Assembly, Juan Requesens and his sister were snatched from their parents home by government security forces. This happened while Nicolás Maduro was rambling on TV about the plan to murder him and the two drones with explosives that were supposed to pull the job. "He's one of the craziest, a psychopath," said Maduro as he incriminated the young deputy in the plot to assassinate him.
The following day (Wednesday), the Supreme Tribunal was swift to inform that they had authorized his arrest, and the Constituent Assembly (the infamous ANC) revoked his parliamentary immunity. The order of the factors doesn't really matter when all of them violate the Constitution.     
People who have worked with him describe Requesens as a well grounded man. Humble, irreverent, and always willing to roll up his sleeves to do the scut work when necessary.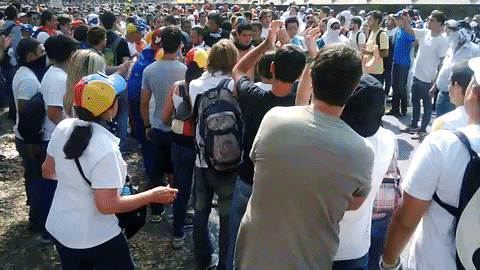 He was President of the UCV Student Centers Federation from 2011 (leaning heavily towards Acción Democrática), and gained notoriety during the 2014 protest cycle as one of the leaders of the student movement. His large frame made him hard to miss in the protests frontline, and his ease with words made him a media favorite. Even when 2014 was a tough, disappointing year for the opposition Requesens thrived politically.
Come 2015. The opposition wins the majority of the National Assembly by a landslide, and Requesens who had joined ranks with Primero Justicia got himself a well deserved seat at the parliament.
We interviewed* Juan Requesens for our young politicians series, since he's part of a generation that have found themselves politically orphaned. With their mentors and leaders jailed, exiled, barred from politics, and persecuted by the government, suddenly it seemed as if these young guns were left with all the burden of doing most of the day-to-day political work —while standing up against a dictatorship.
Going over the interview, and considering what has happened in the past week, some of his answers have a whole new meaning.
Wearing a light blue t-shirt, a slim Requesens reflects on the role politicians must have in the Venezuelan crisis: we must be the vanguard.
"Our role is to civilize, articulate, organize, agitate, and…" Requesens pauses, as if he were choosing carefully his next words, "our role is to assume risks that people aren't willing to assume. But if we decided to go into politics in this country, it is because we decided to assume the risks that go with it. Or at least this is something we must understand as politicians. Some don't, it happens. And it's understandable. Fear is real."
Our role is to assume risks that people aren't willing to assume.
It's chilling to read this statement knowing that just a couple of days later he was being dragged through a corridor by a dozen SEBIN agents.
Juan Requesens believes his greatest political achievement has been putting together his team, and when asked what is politics to him he simply says: The art of serving.
He cites Chile and Spain and the pacto de punto fijo as successful examples of tough negotiations, but doubts that Venezuela is in THAT place.
"A negotiation could work," he says, "but a negotiation —a real negotiation— won't come by itself. I believe we have to get to an inflection point in order to get them to sit down for a REAL negotiation. I think that the discordia with the negotiation alternative has more to do with the government's narrative than with anything else. But you need the will of both sides to have this option work, and when there's no good will you need to create a necessity through pressure to make them sit."
Although the crisis is producing terrible sequels already, Requesens doesn't think we've reached rock bottom yet. In his view, if the country doesn't correct course we are headed towards an even more violent scenario. He envisions uncontrollable social conflict and death as a product of repression and government violence. "That could start tomorrow," he says, "social upheaval is not decreed, it just happens."
He believes contradictions within the government must be peaking. "We're not the only ones living the crisis," he emphasizes. But he doesn't think the opposition is in a good moment for a frontal confrontation:
"The government has the guns, the military, the paramilitary, the security forces, they have the control over violence, the resources, and the control over communications. And we have the public opinion —not necessarily in our favor, I know that, but against the government for sure. And we also have the backing of the international community. What can we do to bring balance to the game? Increasing international pressure and increasing contradictions within the government."
By contradictions within the government he means finding common ground with hard to swallow characters disappointed with chavismo, "this is what the Frente Amplio is good for."
"I would like to be President, but there's a long road ahead," he says in between chuckles when asked about his future in politics. "But in the meantime, I would like to remain a legislator, and work on the re-institutionalization of the country. We have to end corruption and reform the state. We need virtuous people in public institutions. Institutions don't make themselves, they are made by people. We need people who understand this."
Today, I can speak here, I don't know about tomorrow.
During his Monday speech Requesens spoke for his friend, José Manuel Olivares. Although he knew he was exposed –a risk he decided to take, it's probable he didn't imagine that his words would apply to him so quickly.  
"Today, I can speak here, I don't know about tomorrow (…) the only strategy the dictatorship has here is crushing dissidents, within their own ranks and outside of them."
It's been three days since he was taken and there is no information of his whereabouts.
UPDATE 1:54 p.m. —Communications Minister Jorge Rodríguez showed a video of Juan Requesens saying Julio Borges had asked him several weeks ago to help Juan Monasterios cross the border from San Antonio to Cúcuta, Colombia. Rodríguez called this a "confession," such gall. 
*Fabiana Papaianni in Caracas conducted the interview for the Young Politicians Series.
Caracas Chronicles is 100% reader-supported.
We've been able to hang on for 19 years in one of the craziest media landscapes in the world. Now, the difficulty level was raised abruptly with the global pandemic. We've seen different media outlets in Venezuela (and abroad) cutting personnel to avoid closing shop. This is something we're looking to avoid at all costs, and it seems we will. But your collaboration goes a long way in helping us weather the storm.
Donate